TOP CASH AND FREE CAR REMOVAL SUNSHINE COAST
Remember that not all car removal companies are created equal. Some get the job done, yet do not provide added services. At the same time, some stand out among the rest and leave a mark on customers like Brisbane Top Wreckers. As one of the leading names for instant car removal Sunshine Coast , we ensure that all our customers are fully satisfied. All we need are the information about your scrap car, like its make, year, model, and condition. We can come to you to have your vehicle inspected by our top caliber car experts and get the appropriate valuations and offer you free car removal in Sunshine coast.
24/7 Support for Instant car removal in Sunshine coast
If you have a scrap or wrecked vehicle at home that you want to get rid of, then it is more likely that you will be looking for the nearest car buyers in your area. But you should be looking for just any company. Always choose a company that offers the best free car removal and highest offer you can get for your old car.You can never go wrong with Brisbane Top Wreckers. We offer free car removal Sunshine coast and ensure that our support services are available 24/7 to all our customers in Australia. You can call us anytime and any day, even during holidays, if you need car removal Sunshine Coast services.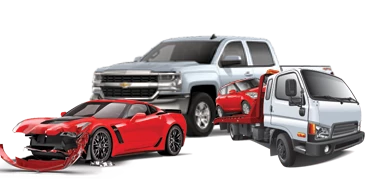 WE ALSO BUY WRECK VEHICLES AS WELL!
The good thing with Top Wreckers is that you don't need to spend extra money on towing fees. We offer this absolutely free. On top of that, we will pay you for your junk car. So before bringing your old and unserviceable vehicle to any scrap yard, call us first. We will immediately have our team inspect the car and offer you a quote on the same day. You can also be sure that our quote is one of the most competitive in the Sunshine Coast. We can pay you as much as $10000 for your scrap vehicle. With us, you can be sure to get the best price on your car in the region. It is worth selling your vehicle to us since we always guarantee that our clients get the right amount for their pre-loved vehicles.
Trusted and Dedicated Team for instant car removal in Sunshine coast
We have the best team of highly trained and experienced car experts in town. Not only are they knowledgeable about different types of vehicles, but they are also dedicated and trustworthy professionals. They will always give the most appealing offer that you just cannot resist. Aside from free cars removal Sunshine coast, we also have vast experience with recycling vehicles; thus, we know precisely how much every car is worth. We specialize in scrap cars; hence you are sure that our valuations will always be the most reasonable and truthful that you can get.
On top of having the best quotes, we also offer convenience to our customers. Your comfort and ease in dealing with us will always be in our minds when you come to us. That is the reason why we make our processes simple and easy to follow.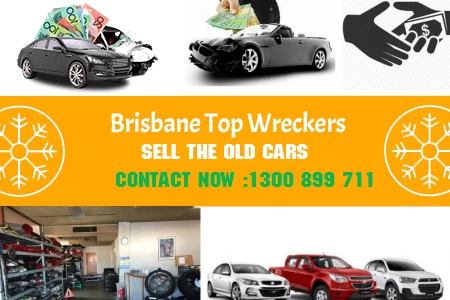 We do not want to complicate things since we understand that situations are already stressful enough as they are. Additionally, we know that it is not easy parting with the previously beloved car that gave you so many memories.
So if you need Instant and free car removal Sunshine Coast and instant cash at the same time, there is no better way to do that than contact Brisbane Top Wreckers. For any used vehicle, whether a car, van, truck, or even a motorbike, contact us to get an immediate quote and instant cash. We guarantee that you will receive the highest payout you can get from a cash for car company in Australia.
24/7 Car removal in Sunshine coast
On the other hand, if you think that it will be challenging for you to bring your car to us, just give us a call, and we will come to you. Our car removal professionals are always ready to go to your location and make an instant inspection of the vehicle and offer on the spot cash. All you need to do is call us so that you will get the convenience of getting instant quotes right in the comfort of your home.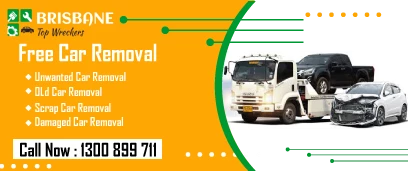 Our support service personnel are readily available to take your call and answer your email if you need any information about our services. You can access our support services 24/7 anywhere you may be in Australia. We have our offices in the Sunshine Coast and in Toowoomba, Beenleigh, Gold Coast, Ipswich, Logan, and Brisbane. Therefore, you don't have to worry about your location since we have our services in most of the country's regions. If you can't come to our shop, we will bring our services to where you are. That is what we call complete customer care. We care about you and all our customers; thus, we want only the best and proper attention to be given to all of you. So, do not wait any longer. Dial our numbers now, and a customer representative will be waiting to assist you. Look only for Brisbane Top Wreckers if you want to sell my car fast with instant car removal Sunshine coast! No matter what the year, make and model of your vehicle is, we will buy it from you at the right amount. Even if your car is not running anymore, you can be sure that you will never get less than what you deserve.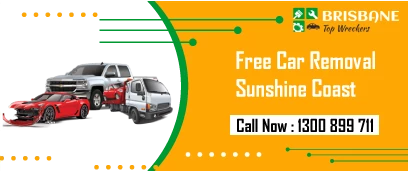 Call us today for instant car removal in Sunshine coast
Call us today for a free instant quote. You can also visit our website to get a free online car valuation without any hassle. If the price is right for you, we will immediately send our car expert to your home and pay you the amount no less than what was quoted. You don't need to have second thoughts because Brisbane Top Wreckers is your best choice for your quick and free car removal Sunshine coast and instant cash for cars requirements. Nothing can beat our offer and process the selling and buying transaction faster and more efficiently. Visit us at any time, and we will be more than happy to assist you with all your car needs.