Cash for Car Toowoomba | Cash For Cars Toowoomba
Typically, car owners who have old unserviceable cars at home look for the best cash for car Toowoomba. No need to look far since Brisbane Top Wreckers got your back. We offer the most promising quote for junk cars and other types of vehicles. You also don't have to worry if you have the oldest wrecked vehicle in town. All we need is the old car and get an instant offer from Top Wreckers.
We buy all kinds of automobiles, of any make, model, and year. Whether you have an old truck, van, SUV, 4x4, or other vehicles that you want to sell, we will buy it. We will take good care of you throughout the process of buying and selling junk cars. Top Wreckers will always ensure that you will have the most convenient and comfortable instant cash for car transactions with us..
Spot Cash with No Hidden Fees
If you need instant cash and have an old non-functioning car at home, Brisbane Top Wreckers is your perfect choice. We offer the fastest and most efficient spot cash for car services in Toowoomba. For immediate money needs in exchange for your junk cars.
You will also get your payment in full without any deduction due to fees and other charges. We understand that you need cash for your family and personal needs. Thus, we ensure that you get what you deserve for your previously loved vehicle.
We guarantee that you will receive the exact amount as quoted and that you will get it immediately. Our process is fast and straightforward. There will be not too much paperwork when you sell your scrap car to us. We can assure you that you will never find cash for Cars Company like Brisbane Top Wreckers.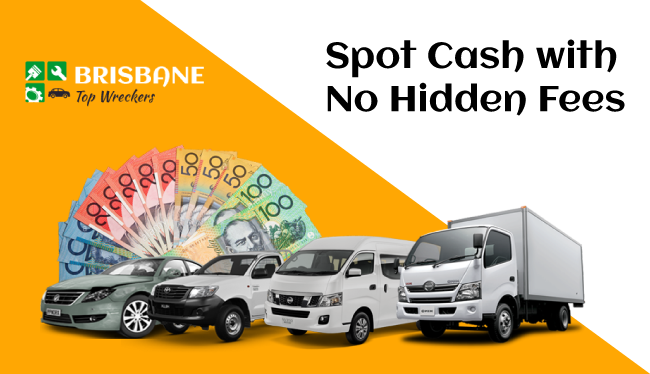 Available Services Anytime and Anywhere
If you have no time to bring your wrecked car to us, give us a call, and we will quickly solve this kind of problem. We can pick up your junk vehicle at any time at no additional cost. So wherever you may be in Toowoomba or any part of the country, we will come to you to pick up your old non-functioning car immediately.
This way, you won't have to spend extra money to pay for hauling services. Brisbane Top Wreckers will provide you with this service for free! So there is no need to look for other junk car buyers. Go to us to sell my car fast.
You can also contact us at any time of the day since our team of highly-trained personnel is always ready to take your call 24/7. Additionally, you can send us an email or visit our website to get a free online valuation whenever convenient. Your convenience is our happiness. We will always find a way to make the whole process comfortable for you.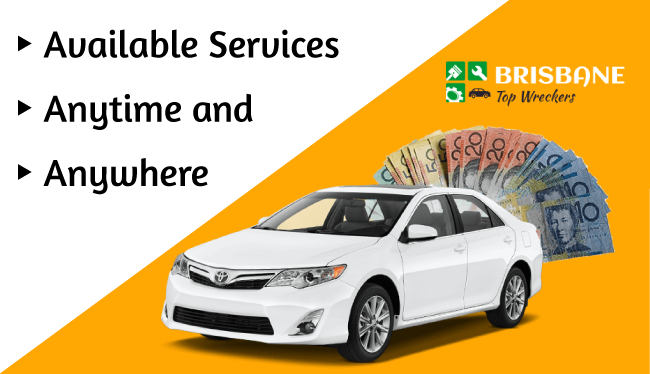 If you are As one of the top buyers in Australia, Brisbane Top Wreckers will consistently provide you with the fastest, most efficient, and most uncomplicated cash for old cars. We also offer fast on-spot cash and free vehicle pick up to meet your needs. Don't hesitate to give us a call or send us a message if you need an immediate phone or email support. Our professional experts will be more than happy to serve you. Our experienced evaluators will give you the best and most appealing quote that can reach as much as $10,000. You may never find the same offer from other car buyers. We also understand that your time is invaluable. With this in mind, we ensured that the whole buying and selling procedure would be transparent and entail less paperwork. It is to ensure that the entire process will be fast and convenient. Subsequently, this means that there will be less paper for you to sign.